Title:Rockstars Temptation
Series: Decoy Series #4
Author: KT Fisher
Genre: Erotic Romance
Hosted by: Francessca's Romance Reviews

Synopsis

This story is a complicated one. Maisy and Max have been really close for a while now. They clicked straight away and a beautiful friendship blossomed. But is it just an innocent friendship? When Maisy's sexy and troublesome younger sister, Lauren comes to town, she begins to stir everything up. Max's eyes wonder and Maisy, for some reason doesn't like it. She tells herself that it's because she doesn't want her sister hurt by his playboy ways, but is that true? Join Max and Maisy on their confusing journey full of heartbreak and turmoil. Where their friendship is stretched to the limits with lust and betrayal. Amongst tragedy and danger, can your heart can lead you in the right direction?





Add to goodreads

Teasers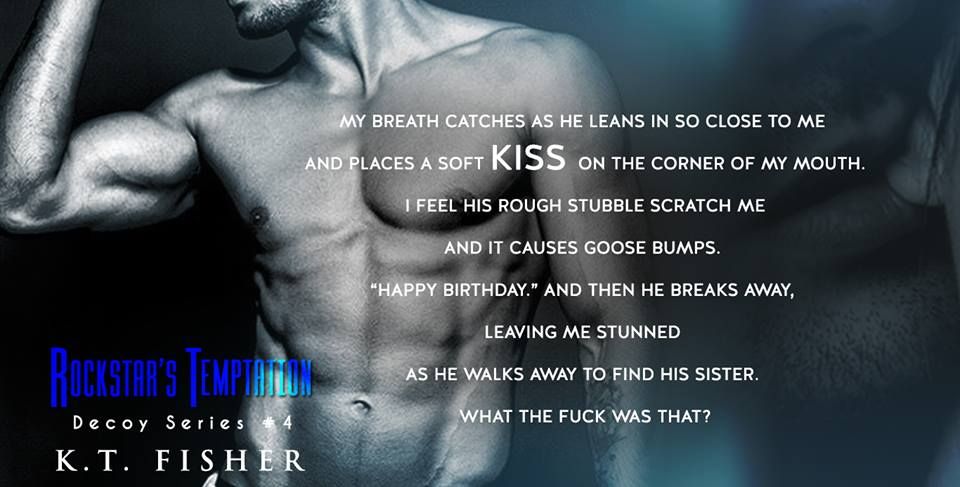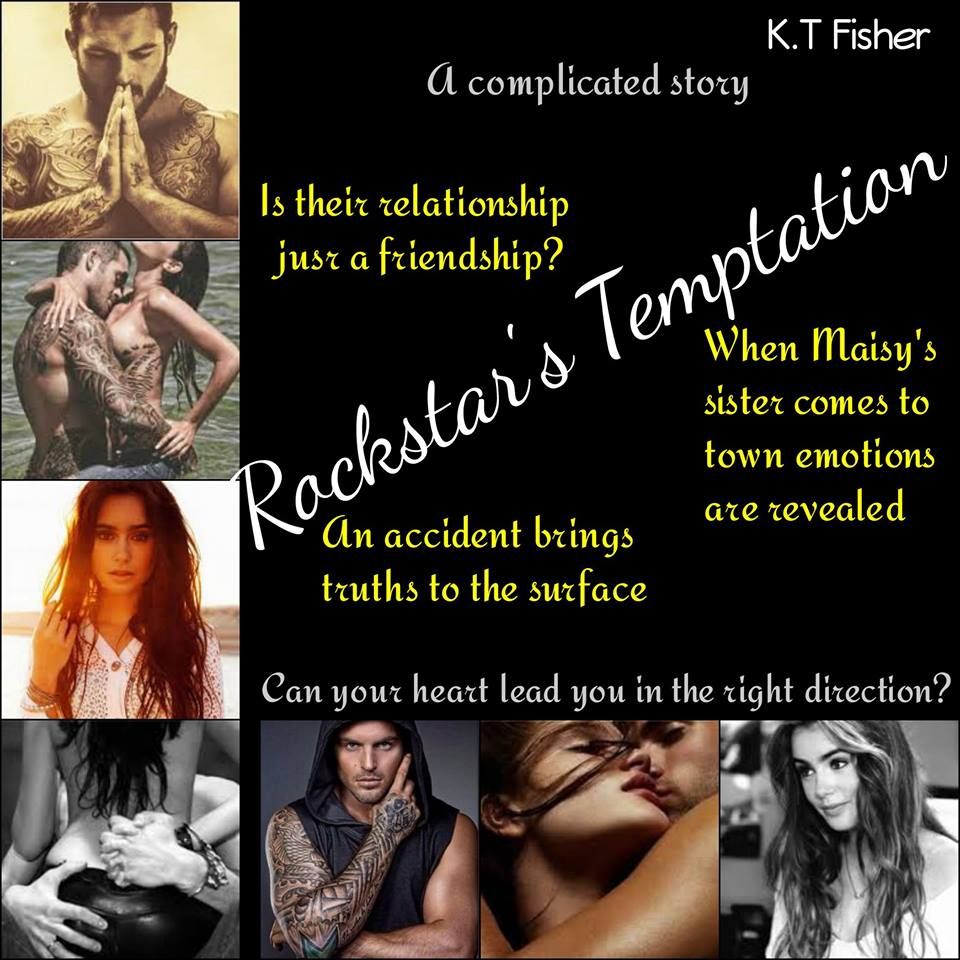 Review

IF YOU ARE REVIEWING PLEASE ENTER YOUR REVIEW HERE IF NOT PLEASE DELETE

Prologue

Prologue

Max

"Oh god!" she screams below me. "Fuck me, Max, fuck me harder!"
It's a good thing the music and shouting from outside this room is loud enough to drown out her screaming!
Today, the girls have thrown a welcome home party for Tanya and Leo because they missed them so much. Probably because they were on their honeymoon for a month! It was only supposed to last two weeks, but Leo had rung home and let us known that he wasn't done having time alone with his new wife, and that he wouldn't be home for another two weeks.
All day, I've been holding back my fucking hard cock, just watching her. She doesn't even know that she's teasing me, tempting me, but she does. Every damn day!
To make it worse, because the weather is good for an English summer day, the girls decided it was perfect for a pool party. Not everyone came in their swim suits, but she did. As the kids scream and laugh, splashing about, my attention is always on her. I don't know what to do with it or how to deal with it all. As I watched her laughing pool side with Kendal and the triplets, Finley decided to splash his mum, but instead he soaked the wrong person. He drenched her through, the woman I've been lusting over. Her bikini became wet and clung to her body and her now wet breasts became my focus point as her nipples hardened under the wet material.
Just the thought makes me pound into the girl under me. That's the only reason she's here with me, in a spare bedroom overlooking the party below us. As soon as the woman outside stood up, showing me her perfect body that's shimmering with the water, I grabbed the nearest girl and dragged her away. As I take this lucky woman from behind, it's not her face I'm picturing, it's the woman who has fucked with my head ever since I met her! It's not the blonde's hair below me that I see as I pull it back, it's the blackness of hers I long to wrap around my fist. The blonde under me is too skinny, she needs a few extra pounds and maybe some curves. Her ass isn't as bouncy, either, and I want more cushion as I pound harder on her ass.
Fuck!
This isn't fucking working! I'm about to stop, but I hear her laugh and for a second I pause. The sound reignites my fire inside and I fuck the blonde again. Unbelievably, my luck doubles. I don't just hear her laugh, but through the gap of the curtains in the room I'm taking up right now, I see her! I watch as she steps from the pool, water falling from her body like a fucking porn star! I thrust one last time, not thinking about the body below me, and come undone from watching Maisy alone.

Purchase Links

Amazon UK
Amazon USA

About the Author




I love reading, it's my favourite hobby. I've always had ideas for my own books packed into my head so I thought I would write them out for people to enjoy.

Stalk KT Fisher:

Facebook
Twitter

RELEASE PARTY!!!!

Other Books in the Series

Rockstar Daddy (Decoy #1)

Amazon UK
Amazon USA

Rockstar's Girl (Decoy #2)

Amazon UK
Amazon USA

Rockstar's Angel (Decoy #3)

Amazon UK
Amazon USA




Posted on: 11/3/2014 - Posted by: Francessca Webster